5 Benefits of Enhanced Bus Service (EBS)
What is EBS?
LANTA's Enhanced Bus Service is the Lehigh Valley's regional plan to introduce a bus rapid transit service. EBS or Enhanced Bus Service, is the Lehigh Valley's Bus Rapid Transit System. It is a high-quality, bus-based transit system that delivers fast, comfortable, and cost-effective services.
LANTA's Enhanced Bus Service includes two routes designed to connect the region with higher frequency service and shorter travel times:
Green Line – South Bethlehem – Allentown – Whitehall
Blue Line – Easton – Allentown – Bethlehem – Trexlertown

1. Lower Cost Per Rider   
EBS routes cover a large service area; riders can pay one fare to travel to various locations on a one-seat-ride.
2. Decreased Travel Times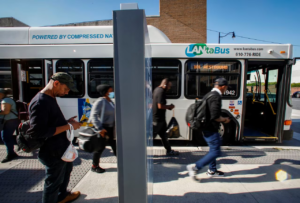 Express or limited stop throughout the corridor for both Green and Blue Line. This combined with high frequency service will allow travel times to be reduced.
3. Enhanced Stations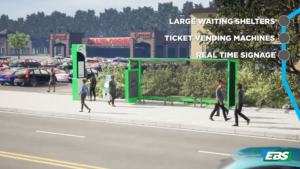 Enhanced stations make EBS systems attractive while providing passenger amenities such as shelters, benches, lighting, ticket vending machines, security features, and arrival information.
4. High Frequency Bus Corridors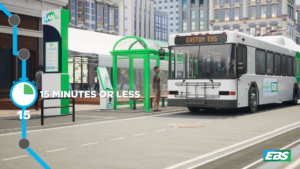 Bus service is designed to involve route frequencies of a bus every 15 minutes or less running express or limited stop type service along the EBS corridors.
5. Improved Service
EBS contributes to reductions in traffic crashes and fatalities. EBS gives the Lehigh Valley features of light rail without the cost! Mobile ticketing powered through Token Transit, allows for preboarding by purchasing bus passes ahead of time. This reduces the boarding times and helps increase efficiency.
Physical roadway improvements:
Signal prioritization – Allows buses to send a signal to traffic lights to keep a light green for a longer period when a bus is approaching an intersection.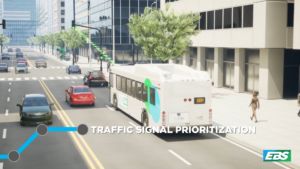 Queue jump lanes – Designated lanes for buses at intersections and a designated traffic light for the bus which turns green prior to the light for general traffic allowing the bus to proceed through the intersection first.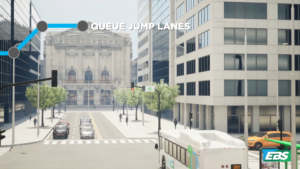 The EBS Green Line and Blue Line transport riders to many locations in the Lehigh Valley including:
Lehigh Valley Mall
Allentown Transportation Center
Bethlehem Transportation Center
Wind Creek Casino
Coca Cola Park
Easton Intermodal Transportation Center
EBS stops enable passengers to make transfers and participate in the ever-growing transportation culture. With Enhanced Bus Service, residents can reach their destinations quickly and efficiently. These routes work together with localized routes to provide transportation to the main hubs in the Lehigh Valley. LANTA, We Move People.