Celebrating Hispanic Heritage Month in Lehigh Valley 
Every year, Hispanic Heritage Month is observed from September 15th to October 15th to celebrate Latinx Americans in culture and honoring their achievements throughout history. For example, did you know in 2021, Nuria Fernandez was the first Afro-Latina to lead the Federal Transit Administration?  
In the Lehigh Valley, the Latinx population has increased in the past decade with 21% of the region's population now identifying as Hispanic or Latino – according to the Lehigh Valley Planning Commission.  
At LANTA, we believe celebrating this month is important as we aim to reflect the community we serve while also honoring the Latinx community members and their contributions to the region. We are also proud to have several staff members who are of Latinx descent who work hard every single day to support their Lehigh Valley community and deliver the highest quality of service for our riders.  
We asked our Latinx LANTA staff how they will be celebrating this month and what their heritage means to them: 
Jessica Lainez, Rider Resources Representative
"As a Latina, my heritage and culture mean RESILIENCE to me! My grandmother would say we are like palm trees – no matter what the storm will bring, giving up is never an option if we stand strong. I grew up surrounded by strong Latina women with different stories, struggles and victories. When I think about the women in my family and my culture it makes me so proud to be a Latina because they have paved the way to teach us that with pain – we gain growth and with growth comes knowledge." 
Steven Guerrero, Operations Supervisor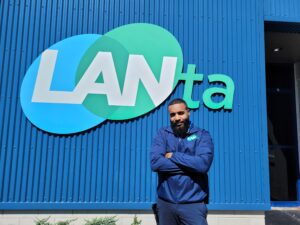 "I am proud of my Dominican heritage. Not only do my roots represent hard work and perseverance, but my people know a thing or two about having a good time. That helps me approach every day with positive energy." 
Ana Rhor, Rider Resources Representative
"Heritage is not only about where you come from, but also about who you are. Being originally from Ecuador, I am proud of our traditions and always. I strive to instill these in my own children and grandchildren." 
Mary Caro, ATC Window Clerk
"What I love the most about my heritage, as a Puerto Rican, is the strength of family. Being brought up to love and be there for one another, through the most trying of times, has made me the mother, grandmother, and all-around best person that I can be today. I watched as my aunts come together to whip up meals for anyone that needed food. I have seen it many times; without hesitation my uncles lend a helping hand to anyone that needed it. I watched my grandmother raise children that were not her own. All this even went beyond actual relatives. This was with friends, neighbors and even strangers. Because of all this, that I have witnessed first-hand and continue to implement with my own family be it blood or extended, is why I love my heritage." 
Alvin Otero-Agosto, LANtabus operator
 
"My heritage means a lot to me. As a Hispanic, I live proudly every single day knowing I am part of a culture that is vibrant like mine." 
Ellyn Rodriguez, Human Resources Coordinator
"Growing up in Bethlehem, PA since birth I can say I honestly did not grow up knowing or celebrating much of my Hispanic culture. After a few visits to Puerto Rico as a kid I looked forward to visiting more and learning more about my background. As I got older, I took it upon myself to join communities online celebrating our food, music, and traditions. I now know many 'famous dishes' and enjoy cooking them all the time." 
Magaly Soto, LANtaVan Clerk 
"I am proud of my Hispanic Heritage. I come from the little island Puerto Rico where people have the greatest hearts and compassion for others. Being bilingual serves my life a great purpose to help those with the language barrier and get ahead. I love cooking all the great dishes I was taught at a young age, and it is a pleasure to see people from other countries trying our food."