Pay your fare with Transit.
Here's how it works:
Press "Buy Ticket" at the bottom of the home screen.
Select your ticket.
Follow the steps to sign in to your Transit account or to create a new account.
Confirm your purchase and you're all set.
When you're ready to ride, activate your pass. Display the ticket on your phone's screen to the driver. They'll verify your ticket, let you board, and off to the races you go.
More things Transit can do ?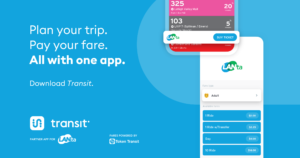 Plan your trip. Track your ride.
See nearby ETAs as soon as you open the app.
Real-time vehicle locations on the map
Transit has real-time information for all LANtaBuses – as well as connecting services.
Step-by-step guidance with GO
Tap GO to be reminded when to leave, when to transfer, and when to get off the bus. Subscribe to push notifications so you know when you're almost there and when you've arrived.

Avoid the crowds
With GO crowdsourcing, you can share real-time crowding reports and boost the accuracy of real-time info for fellow riders.
Service alerts
Stop moved? Disrupted service? Find out before you leave. View service alerts in Transit, or subscribe to receive push notifications for your favorite routes.
Travel smarter with Transit