LANTA now provides various ways to track your trip and purchase fares:
Smart phone | Landline | Text
Please note that message and data rates may apply if you sign up to receive text-message alerts. See Privacy Policy and Terms and Conditions.
1) By smart phone
2) By calling in to our automated phoneline
Call 610-776-7433 and select option 3 at the main menu – then enter the four digit number of your bus stop followed by the # sign.  The four digit numbers of all LANta bus stops are listed on the left side of the front of the bus stop sign, near the route number(s), and are also listed on each route's myStop bus tracker page. When you click on a route number in the myStop bus tracker, a list of stops for that route will appear with the four digit bus stop numbers (as shown in the graphics below).
3) By sending a text message
 Text "LN####"  (without quotations) to 321123 along with your stop number. Example: LN1000. Message and Data rates may apply. See Privacy Policy and Terms and Conditions.
Finding Your Bus Stop Number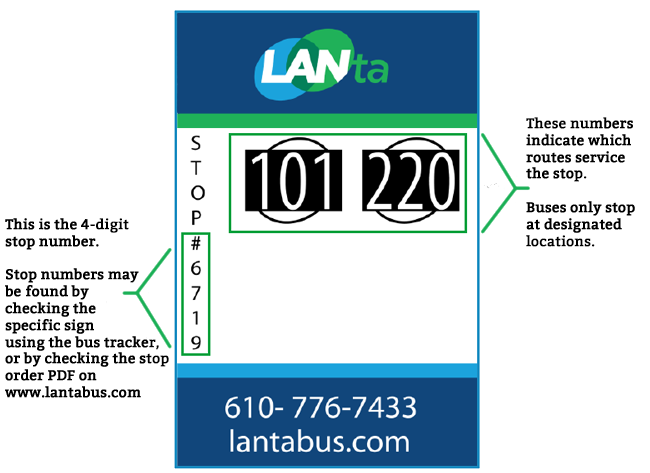 Planning Your Trip
Using Transit App
By downloading the Transit App, you will have access to bus arrival times based on your location. You can search the precise address or location you are traveling to, and the results will explain which routes to take. It will also provide the distance to bus stops and how long the trip will take. In the app, you can save addresses such as your home and your work for easy access to everyday locations.
Using Google Maps
You can find scheduled bus arrival times on Google Maps by entering an address or location. You can either set a destination and starting address and click the Transit transportation mode, or manually select bus stops as described below. You can also enter trip information into the Trip Planner box on the right or on the LANtaBus homepage. Additionally, our Customer Service department can help planning and determining trips through calling 610-776-7433 during our Customer Service hours.
When the map is zoomed to that location, bus stop icons will appear indicating LANta bus stops*.  Clicking on the bus stop icon will show routes and scheduled arrival times for that stop (this will not provide the real time status of those buses).  You can also plan your trip by clicking on Directions, entering in the address of an origin and destination and clicking on the "By Transit" symbol.  This will provide you with step by step instructions on how to make your trip using LANta.
We recommend that you double-check the information provided by Google's trip planner with the schedule information on LANta's Route and Schedule page.
Fares
Downloading the Transit App or Token Transit from the App Store or Google Play Store makes purchasing passes and tickets easier. You will have access to your tickets and passes in the palm of your hand.
* Bus stop symbols will of course only appear at LANtaBus stops.  The intersection you search for may not have a bus stop so find the intersection nearest where a bus stop symbol appears and click on that and plan to board there.