2023 Proposed June Service Changes
Open House March 22, 10 am
Bethlehem City Hall – 10 E Church St, Bethlehem, PA 18018
We are opening for public comment regarding the 2023 Proposed June Service Changes. This period is to get feedback and insight from the communities' perspective. We will be hosting an Open-House on March 22 at 10 am to 12pm at Bethlehem City Hall.  This will be held in person and virtually. The Open House will be to address feedback and questions about this upcoming June.
Please submit comments and questions you would like to be addressed at the open house.
Haga clic aquí para comentar en español
Ways to submit feedback:
Click here to submit feedback or ask a question.
Email: Surveycomments@lantabus.com
Text: LANTA" to (484) 267-1739
Call: (888) 253-8333
In-person at Allentown Transportation Center
Changes:
100 | 101 | 103 | 213/218 | 322 | 603 | Comment
Route 100 EBS Green Line – Shift times 5 min earlier and remove from MacArthur Towne Centre
Route 101 EBS Blue Line – Will operate every 30 minutes Limited Stop throughout the entire route.
Route 103 – Will no longer serve Whitehall Square (Redners) to speed up service to Allentown/Northampton/Catasauqua.
Service frequency will decrease to hourly service.
Route 103 will continue to operate to and from Northampton with decreased frequency.
Route 603 – Will be extended from Lehigh Valley Mall to serve Grape St, Whitehall Square (Redners), Whitehall Central, and end at MacArthur Towne Centre. Service will be increased to hourly mid-day.
Northbound                                                                                                  Southbound
Route 213/218 – Route 213 will be cancelled. A modified Breinigsville loop will be added to Route 218. Working with route EBS Blue Line (101), 322 and 613, these changes will allow riders to have multiple options in Breinigsville. 90 min headways weekdays and Saturdays.
Eastbound

Westbound

Route 322 – Operating local service along Hamilton Blvd to Trexlertown. From ATC, the route will serve Turner and Chew, and all trips will extend to Amazon/FedEx Breinigsville.
Eastbound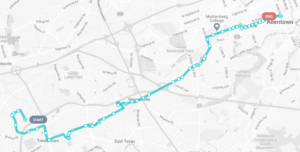 Westbound